Authentic Oaxacan Mole Negro
Takes its name from molli, from the language of the pre-Columbian Nathual Indians in Mexico, and loosely translates as mixture. The Mexican state of Oaxaca is famous for its seven moles. The essence of authentic regional Mexican cooking, the kind you won't find in Americanized "Mexican Mole". Made from scratch, the original Oaxacan recipe made in the sister city of Palo Alto, Caifornia. Our Oaxacan Mole Negro taste the same as the great moles in Oaxaca city. Made from half a dozen different toasted chilies, along with sesame seeds, peanuts, plantains, apples, raisins, garlic, onions, a dozen other ingredients along with a generous dose of our Authentic Oaxacan Chocolate. The Mole is fantastic with chicken, turkey and pork, it is used in enchiladas, tamales, over nachos, fish, and can be used in vegetarian or vegan dishes.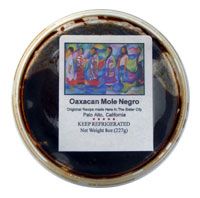 Oaxacan Mole Negro
12 oz. (340 g) for $9.00
UNAVAILABLE AT THE MOMENT
Oaxacan Chocolate
Authentic Mexican Chocolate Drink
The most traditional use for chocolate was for hot beverages such as Champurrado and Mexican Hot Chocolate. These drinks are whipped up using a wooden whisk called a molinillo (moh-lin-nyee-oh). The molinillo (whisk) is held between the palms of your hands. Then turn using a back and forth motion in the mixture until it is aerated and frothy.
In this century, most people simply buy chocolate, however in Oaxaca chocolate is still being made by hand or by Molino (grinder). Any tourist who makes it to Calle Mina, in downtown Oaxaca City, where the sounds of crunching and grinding fill the air, will always remember for its alluring smell of chocolate. We grind our chocolate fresh. We use cocoa beans from Mexico, they are roasted, then ground using the same molinoes of Oaxaca. The crushed, heated beans melt and are combined with sugar, canela (cinnamon), and toasted almonds. We offer two types of chocolate at the Farmers' Markets. Both Sweetened and Unsweetened.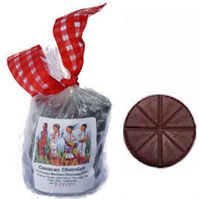 Oaxacan Chocolate - Authentic Mexican Chocolate Drink 8 oz. (227 g) for $7.00
Oaxacan Chocolate - Authentic Mexican Chocolate Drink Unsweetened 8 oz. (227 g) for $13.00
UNAVAILABLE AT THE MOMENT