Oaxacan Chocolate
Authentic Mexican Chocolate Drink
Serves: 4

INGREDIENTS: 4 cups milk, 1 disk Oaxacan Chocolate
INSTRUCTIONS:
Scald the milk in a saucepan, be careful not to boil the milk.
Add the chocolate to dissolve in the warmed milk.
Place into the jar of a blender.
Blend on low speed until the chocolate is broken up; add the chocolate milk mixture back into the saucepan with additional milk if needed.
Warm until all the chocolate has dissolved in the saucepan.
You may desire the chocolate with more or less milk.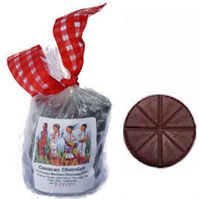 Oaxacan Chocolate - Authentic Mexican Chocolate Drink 8 oz. (227 g) for $7.00
Oaxacan Chocolate - Authentic Mexican Chocolate Drink Unsweetened 8 oz. (227 g) for $13.00